Why is recycling so important?
With the global human population growing rapidly, recycling is indispensable for both the environment and society. Together with our insatiable need for raw materials, the waste we create has a huge negative impact on the environment. One adverse effect is the extensive energy consumption related to the use of raw materials for production. Recycling of used products into secondary raw materials requires less energy and reduces the need for precious raw materials at the same time.
Looking at the waste we create, that from plastics is the most concerning today and is one of society's most pressing problems. According to the European Commission, every year more than 25 million tonnes of plastic waste are generated in Europe alone. So far, less than 30% of such waste is collected for recycling. The amounts of plastic waste going into landfill (31%) and incineration (39%) are much too high1.
Konica Minolta knows …
Konica Minolta is aware of these serious problems; and we are committed to doing our utmost to help reduce waste, protect the environment, and preserve natural resources. Konica Minolta's Clean Planet Program has been created with this in mind, as an offering to help our customers reduce negative impacts on the environment, pursue their own sustainability goals, and create a responsible business environment for themselves and their stakeholders.
Our commitment to a circular economy
At Konica Minolta, we actively support Europe's transition towards a circular economy. We are convinced that by doing so, we help to boost global competitiveness, foster sustainable economic growth, and generate new jobs. We take measures to support the achievement of the European circular economy goals, for example with our office devices that are built for long-life use and have a recyclable design, a requirement of the strict environmental label "Blue Angel" that nearly all our office devices have been awarded with. Our toner bottles are made of recycled plastics (up to 100%), and our office devices contain up to 36% recycled plastics (in line with Blue Angel criteria).
Our partner for efficient high-class recycling: Close the Loop
We partner with Close the Loop (CtL) – an international certified recycling company that provides best-in-class sustainability solutions for recycling.
The company is internationally recognised for designing and managing highly efficient ink and toner take-back and recovery programs. Based on its own specialised technology, Close the Loop takes in, sorts and recycles the consumables it receives – with the essential guarantee of zero waste to landfill.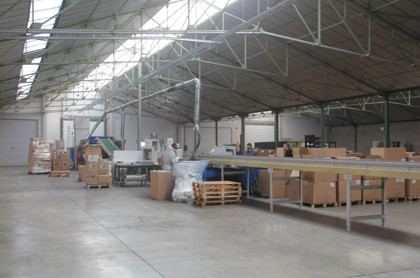 Close the Loop's recycling system focuses on material recovery to optimise the material reuse of the fractions recovered from the recycling process. A look at the recycling results of the French consortium of manufacturers from the imaging industry – Konica Minolta is one of its members – provides a good average for material reuse and energy recovery values: In 2018, material reuse amounted to over 91% while energy recovery was about 8%.
The main components going into energy recovery are toner powder and "fluff" – i.e. labels, rubber and soft plastic strips etc. Toner & fluff are sent to a high-performing plant in Germany that ensures maximum energy recovery.
In order to maximise the material recovery rate, Close the Loop operates two different recycling lines, one for "complex" consumables containing metal parts, and one for "non-complex" consumables that consist entirely of plastics. In the recycling process, plastics are separated from the ferrous and non-ferrous metals, dry-cleaned and granulated. The result is forwarded to partnering recycling companies where it is prepared to be reused for various applications, including television and monitor screens, outdoor furniture, and office materials. The plastics from non-complex consumables are processed per polymer batch in order to obtain the purest secondary raw materials.
Certifications
Close the Loop has been certified to numerous standards, including ISO 9001 (Quality Management System) and ISO 14001 (Environmental Management System). Another certification is OHSAS 18001, a British Standard for occupational health and safety management systems that focuses on the health and safety of a company's staff. Close the Loop has general safety rules for each site that are handed over to each employee newly starting a job there.
Close the Loop also holds EN 50625, which certifies the company's compliance with the collection, logistics and treatment requirements for WEEE (Waste Electrical and Electronic Equipment).
1European Commission: A European Strategy for Plastics in a Circular Economy, p. 2; Brussels, 16.1.2018.